For years I've badly kept a secret under a snobby "I listen to the Shins" facade. I play it "cool" when talking music. If you ask, I'll recommend eclectic Tame Impala, soothing Jenny Lewis, and mention how I just got into Andrew Bird and wish I saw him at a house show in the city before he got big. If you hand me the aux cord I'll put on Fleetwood Mac's stomp-y "Tusk," pretend I liked Lorde from the start, or select Jack White's "Lazaretto," not before mentioning it's unfortunate that he's an asshole in real life. I'll mention that I saw the ever so angsty Simple Plan in concert when I was 15, and how I once fainted during a Modest Mouse set.
If you met me now, you probably wouldn't guess that at one point in my life I knew the whereabouts of Harry Styles at any given time and day, but that's the goddamn truth.
One Direction was more than just an obsession; it was a ride. I was there since 2011 when they auditioned on X Factor. I knew everything past the basic information everybody knew like his birthday, hometown, his tattoos. Just from scrolling through my Twitter feed I knew where he was, who he was with, why he was with them, I mean everything. My parents gifted a cardboard cutout Harry to me as a reward for being inducted into my school's National Honor Society. I was mortified, embarrassed, and only a few, trusted, friends ever saw it. I had 1D books, their DVD, cut out pictures of them. I even had a favorite picture of Harry. This was it. I don't know, okay?
I'll try to write this to the best of my ability as if I did not own a cardboard cutout of Harry Styles in 2012. You see, it was "embarrassing" to proudly stan One Direction in my day. It was shameful to bop to "trivial" hits like "Live While We're Young," "Up All Night," and the one that started it all, "What Makes You Beautiful." It was basic. Society deemed 1D as soft, childish, and because it was beloved by hormonal teen girls: dismissible.
Here's the truth about that: assuming something is shit because teen girls like it is inherently sexist, elitist, and frankly, a waste of both yours and my time. Nothing is worse at a party than having to listen to a mediocre dude mansplain Weezer, Coldplay, or Radiohead to you while vaping. I once had a man-bun donning Uber driver in Los Angeles ask me, "Jack White, ever heard of him?" and I rolled my eyes so hard I resembled an eightball.
Mr. Styles himself is aware of the sexism that surrounds his fame and actually addressed it in a recent Rolling Stone interview:
"Who's to say that young girls who like pop music – short for popular, right? – have worse musical taste than a 30-year-old hipster guy? That's not up to you to say. Music is something that's always changing. There's no goal posts. Young girls liked the Beatles. You gonna tell me they're not serious? How can you say young girls don't get it? They're our future. Our future doctors, lawyers, mothers, presidents, they kind of keep the world going. Teenage-girl fans – they don't lie. If they like you, they're there. They don't act 'too cool.' They like you, and they tell you. Which is sick."
Forced into hiding during One Direction's peak, I began to share my "cooler" musical interests more often. It wasn't necessarily a lie, because I did and do listen to Elton John, Fleetwood Mac, and Jenny Lewis frequently. In childhood journals, I wrote that Stevie Nicks was my role model and mentioned how "Tusk" and "The Chain" were the best songs ever created. (Though 21-year-old me contests now that Outkast's "Hey Ya!" may tie).
I went into complete stalkerish-fangirl-retirement around the time of One Direction's third album. I had just dropped off, lost interest in the drama, and I was done. I heard the last album post-Zayn and I liked it, but didn't obsess over it like I had previously. I truly did just naturally stop listening to their music. Things were smooth sailing for a couple of years; my headphones only blasted some good ol' Norah Jones, Rilo Kiley, Fleetwood Mac, Father John Misty, and y-know, indie folk stuff.
That's why when Harry Styles went solo, with a newer, folk-y rock sound I knew I was in trouble. At first I avoided the album, I knew that once I listened I would be too far gone. I heard peers compare his "Sign Of The Times" to Bowie and call him a baby Mick Jagger. Shit, I thought. The album came out, I avoided it, but my mind had already started to get on board. I swore to myself that I wouldn't get back into my 1D conspiracy lifestyle, but when I saw headlines "Harry Styles' New Girlfriend: Tess Ward" and I immediately doubted it because it was announced so close to the album release date. Oh no, here we go again, I thought. Then there was SNL, which I regularly watch anyway, and there he was, in a goddamn plaid suit, singing "Sign Of The Times", and then, "Ever Since New York" (rumored to be about Taylor Swift – see! I'm doing it again! Ugh!). Upon hearing his soothing voice sliding out of his goddamn smirked mouth it was game over, I had to listen, and I did. And now, just like Sum41's classic 2000's angst anthem, I am "In Too Deep."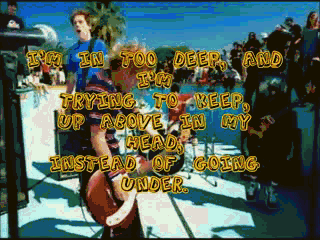 "Sign Of The Times" does slightly evoke the late David Bowie's "Space Oddity." It's dramatic, soothing, and written about the current political state. "Just stop your crying, it's a sign on the times. We got to get away from from here. We got to get away from here. Stop your crying, baby, we'll be alright. They told me that the end is near we got to get away from here." I mean true though. Styles admitted to long-time best friend James Corden in his recent Carpool Karaoke segment that he cries sometimes performing this song, but in a "cool, emotional way."
By the way, Harry's Carpool Karaoke, at the time of publishing, is just three days old and has already accumulated 12 million views on Youtube. It's also a gem. Harry and James reenact romantic comedy scenes and sing "Hey Ya!" (which I have mentioned a million times is the best song of my generation!).
The other tracks on the album won me over just as easily. "Meet Me In The Hallway" sounds like a Mac Demarco or Tame Impala track, with drawn-out dream-like sentences. It's desperate, entrancing, and perfect for those who select certain songs to induce them into sleep whilst picking their own brain. "Carolina" is 60s-ish. The repetitive "La La La's" really make me think of rose colored glasses, neon flowers, and high-waisted bell bottoms.
A favorite, "Two Ghosts," murdered my soul. It is slower, calmer folk about the ebb and flow of a dead relationship. "We're not who we used to be, we are just two ghosts swimming in a glass half empty, trying to remember how it feels to have a heartbeat." Ouch. This one is negative, but not unrelatable. The next track, "Sweet Creature," is well, sweet. A lot of fans seem to think this was written about his older sister, Gemma. It is also his mom's favorite song on the album. The background vocals are really eclectic, I think. In fact, the thought of Styles recording just the high-pitched background vocals "Oooooooh-woop! Oooooh-wooop! Oooooh!"s makes me laugh.
"Only Angel" is that classic rock sound many were waiting for. It's sexy, catchy, and about goddamn time. In the foreseeable future Harry Styles will probably jump around stage to this and possibly swing an electric guitar over a plaid-suited shoulder of his. The not-so-retired fangirl in me wants to guess this song is about Kendall Jenner, but I won't talk about that. (Though wouldn't it be amazing if he became a reoccurring character on KUWTK?)
My absolute favorite song on this album is "Kiwi." It's the most honest, loud, and rock and roll sound we have heard from Styles yet. It mentions the lifestyle that you'd expect to hear from a 23-year-old celebrity living in LA — cocaine, hard liquor, prostitutes, a crazy impulsive party scene, and baby-makin'. The chorus screams the lyrics "I am having your baby! Its none of your business!" and I quite literally have felt that way toward Harry Styles for years, so thank you, for that, for affirming what I have been thinking this whole time.
"Ever Since New York," is a slower ballad similar to "Two Ghosts." Oh, tell me something that I don't already know. Truthfully, eh. There's got to be one on the album that just isn't a favorite. For me, this is it.
"Woman" is moody and confrontational, with some long guitar riffs and orchestrated duck sounds. Well, it's actually Styles' voice with an effect over it and it's not supposed to sound like a duck, more of like an "UHH" but it totally sounds like a quack.
Lastly, is "From The Dining Room Table," which sounds like the kind of song in an opening scene in Judd Apatow movie starring Michael Cera as the shrimpy male lead. It sounds how unshakeable uncertainty that comes with the twenties feels. It progresses into almost a heavenly sounding chorus for a brief second. My favorite lines are "Fell back to sleep, I got drunk by noon. I've never felt less cool." and "Comfortable silence is so overrated." For me, this taps into the nature of impulsive decisions a lost twentysomething sometimes makes. It reminds me of almost every time I have drank alone. It's about longing, missing someone, and in a way, missing yourself. I dig "From The Dining Room Table" and relate, hard.
To make matters worse, I truly think Harry Styles is trying to personally kill me. On Sat. May 20th, he performed a "secret show" at The Troubadour with a special guest. It was Stevie Nicks. They sang "Landslide" together. He cried. I cried. Goddamnit.
So here we are in 2017, Harry Styles' self-titled rock album has debuted at number one on Billboard's top 200 chart. One Direction critics will act as if they've been won over. That mediocre guy from that party earlier will state the obvious, "This is Harry Styles? It doesn't sound like One Direction." A new era of fangirls will mix in with the old. People like me don't have to hide anymore under elitist "well actually, I listen to-" tones. Harry Styles is cool, has been cool, and if you thought he was lame before just because teen girls liked him, then you were probably being a little sexist. Now if you excuse me, I have an old cardboard cutout to dig out…